3 1/8 x 230 Thermal POS Printer Paper -50 Rolls Epson Star Citizen VeriFone Ruby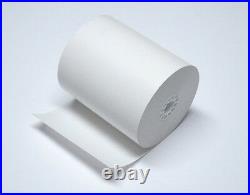 3 1/8 x 230' Thermal Roll Paper. Width: 3 1/8 inch (80mm). Core Size: 7/16" Inner Diameter & 7/8" Outer Diameter. Premium Quality "MADE IN THE USA".
5% More Paper Than 220' Roll. 48 gram / 2.1 mil. 3 1/8 x 230' Thermal Roll Paper is compatible with the following devices.
Axiohm 7156, 7193, 7196, A715, A716, A756, A758, A760, A793, A794, A795, TELESTO. Bixolon SRP-350, SRP-352, SRP-370, SRP-372, SRP-131. Citizen CBM1000 Type II, CBM230, CBM231, CBM293, CT-S2000, CT-S300, CT-S310, CT-S4000, CT-S601, CT-S651, CT-S810, IDP3210, IDP3310, LT380, RJV-2000.
Cognitive TPG (formerly TPG) A756, A758, A760, A776, A793, A794, A795, A798, A799, B780. EPSON M129A, M129B, Epson M129C, Epson TM-H5000, Epson TM-H5000 II, Epson TM-H6000, Epson TM-H6000III, Epson TM-T70, Epson TM-T80, Epson TM-T85, Epson TM-T90, Epson TM-T88, Epson T-T88I, Epson TM-T88II, Epson TM-T88 III, Epson TM-T88 IV, Epson TM-T88V, Epson TM-T90 Series, Epson TMU 6000, Ready Print T20, Epson TM-T70 Printer. Epson Ready Print T20 Printer.
IBM 4610T1 Suremark, IBM 4610T12 Suremark, IBM 4610T13 Suremark, IBM 4610T14 Suremark, IBM Suremark TM6, IBM TM7, IBM TF6, IBM TF7, IBM 4651, IBM 4655, IBM 4659. Ithaca Peripherals 181, PcOS 80 Series, Ithaca 80 Plus Series, Ithaca 181 Series, Ithaca Series 280 iTherm. MICROS TM-T88, Micros 3700, 8700 Thermal.
Partner Tech PT-6215 All-In-One POS terminal, RP-320, RP-500 thermal printers. PosiFlex Aura PP7000, PP8000, and PP9000 series thermal printers. POS-X XR500, XR510, XR520, EVO (thermal receipt printers). Remanco/Geac Restaurant System Color PC Workstation.
Samsung SAM4S, ELLIX-20, SRP350, SRP350 Plus, SRP370, SRP372. Seiko DPU 5300, Seiko Qaliber RP-E10, Seiko Qaliber RP-E11. SNBC BTP-2002, BTP-2002NP, BTP-R880NP, BTP-R580. Star Micronics TSP100, TSP100ECO, TSP100GT, SCP700, TSP200-24, TSP2000, TSP300, TSP312, TSP400 Series, TSP500 Series, TSP552, TSP600 Series, TSP650, TSP 654D, TSP 700 Series, TSP743, Star TSP2000 Series, Star FVP-10. TPG 7156, 7193, 9196, A715, A756, A758, A793, A794, B780.
Verifone Ruby Supersystem, Verifone Ruby Sapphire, Verifone RP300. This item is in the category "Business & Industrial\Retail & Services\Point of Sale & Money Handling\POS Printer Ribbons & Paper".
The seller is "dcplatinum" and is located in this country: US. This item can be shipped to United States.
MPN: 140-730
Brand: Star Micronics Epson NCR IBM Verifone Ruby Bixolon
UPC: 639105381426