570AR TOP Digital Employee punch/swipe Time Clock decimal hours for PAYCHEX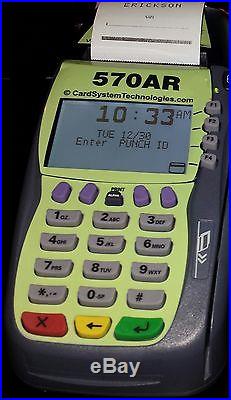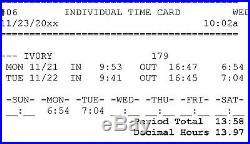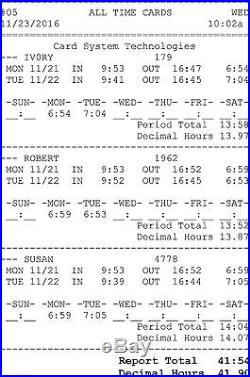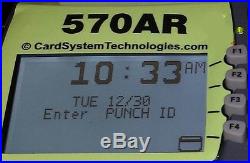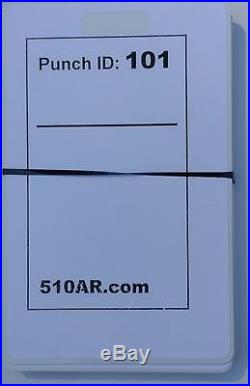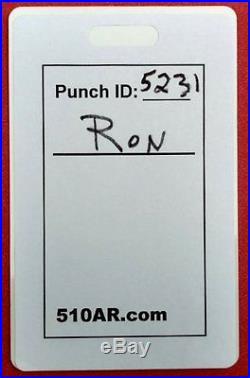 Accurately track employee work hours. A digital time clock is a modernized version of the punch card clock.
570AR records punches in exact time and totals in decimal hours for input to payroll companies like Paychex. A time card or completing a sign sheet, The employee keys in (punches) a PIN code or swipes a card to record the date and time. Making traditional paper systems obsolete. Why do Payroll service providers require "hours worked" in a decimal hours format?
The big thing to look for is a decimal point. Time cards report prints employee hours both in the decimal hours format and hh:mm. Cause a bit of confusion for people who are used to looking at hours in the hh:mm format. Here are a few examples of decimal hours. And how to interpret them.
8.00 hours - this is exactly 8 hours OR 8:00 in the hh:mm format - note colon, not a decimal point. 8.25 hours - this is 8 and 1/4 hours, or 8 hours and 15 minutes OR 8:15 (hh:mm again), again note the colon. 8.50 hours - here we have 8 and ½ hours or 8 hours and 30 minutes. 8.75 hours - 8 hours and 45 minutes OR 8:45.
Here are a few which are commonly confused. 8.20 hours - you may want to read this as 8 hours and 20 minutes, but notice the decimal point, it is actually 8 hours and 12 minutes. 8.45 hours - this one is 8 hours and 27 minutes.
We use decimal hours for two reasons. They are more precise - decimal hours are almost 2 times more precise than minute hours.
Minute hours have a maximum of 1/60 resolution, while decimal hours have a 1/100 resolution. Decimal hours are easier to work with - Imagine trying to multiply 8:12 (which is 8 hours and 12 minutes) by an employee hourly rate.
Its much easier to multiply 8.20(or 8 hours and 12 minutes) by an hourly rate to calculate payroll. Great return on my investment. I was using punch cards with 1/4 hr rounding. I saved about 10% on payroll costs and saved lots of my time.
My payroll company requires total hours as decimal hours. This unit prints totals totals in real time AND decimal time. Gives Fast and Clear Printing on Inexpensive Thermal Paper, No Need to Use Ribbons or Ink. Quiet High Speed Thermal Printer - Prints 18 Lines per Second. "Clam Shell" Design for Easy Paper Loading. Weekly, 2 Weeks, Bi-Monthly, Monthly. Assign Workers to a Department to Meet Different Working Time Arrangements. Auto-adjusts for Number of Days in the Month, Leap Year and Daylight Savings Time. Function Codes Allow Easy Program Changes. 8 in by 4 in Tabletop or Shelf Mounting.
125 Employees (200,300, 500 optional). 2 1/4 x 85 ft. 8 " x 4" x 2. Payroll companies like Paychex require the work hours input in a decimal. The 570AR prints both real time and decimal.
02/24/201x By Name 9:06a union store #51 SMITH JOHN 5745 20 WED 03/16 IN 11:20 OUT 16:58 5:38 THU 03/17 IN 9:43 OUT 16:50 7:07 FRI 03/18 IN 9:49 OUT 16:57 7:08 TUE 03/22 IN 10:00 OUT 16:58 6:58 WED 03/23 IN 10:15 OUT 16:51 6:36 SAT 04/02 IN 9:53 OUT 15:55 6:02 -SUN- -MON- -TUE- -WED- -THU- -FRI- -SAT- __:__ __:__ 6:58 12:14 7:07 7:08 6:02. PRINT WHO'S IN LIST.
1 570AR Attendance Recorder with white backlite display. 1 roll 21/4 in by 85 ft thermal paper roll (available at office supply stores). The item "570AR TOP Digital Employee punch/swipe Time Clock decimal hours for PAYCHEX" is in sale since Saturday, June 18, 2016.
This item is in the category "Business & Industrial\Office\Office Equipment\Time Clocks & Supplies\Time Clocks". The seller is "bertbert1" and is located in VA. This item can be shipped to United States.
PRINTS DECIMAL HOURS: INPUT TO PAYROLL PROVIDERS LIKE PAYCHEX
Model: 570AR
Country/Region of Manufacture: United States
MPN: 570AR
Brand: Verifone
period totals: regular minutes (1/60) and decimal 1/100 of hour