570AR TIME AND ATTENDANCE SYSTEM for payroll, punch/swipe, 10 cards withprinter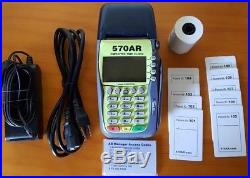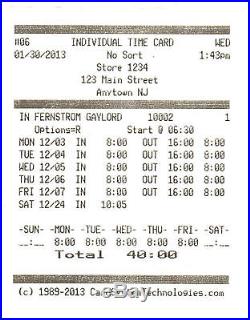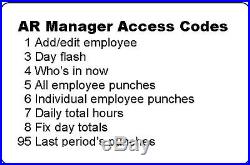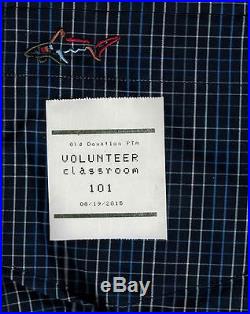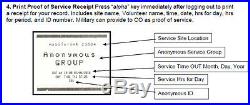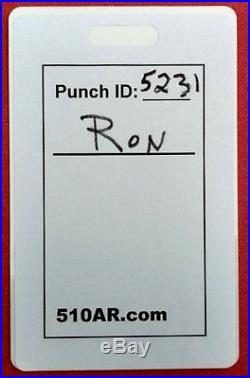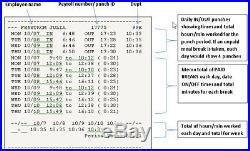 Accurately track employee work hours. A digital time clock is a modernized version of the punch card clock. Instead of inserting a time card or completing a sign sheet, The employee keys in (punches) a PIN code or swipes a card to record. Making traditional paper systems obsolete. Total hours worked minutes are printed in both normal (0-60) and.
Hundredths of hour (0-100), for those who require this format for calculating payroll. Why do Payroll service providers require "hours worked" in decimal hours format? The big thing to look for is a decimal point.
Time cards report displays employee hours worked both in the decimal hours format and hh:mm. Decimal hours can sometimes cause a bit of confusion for people who are used to looking at hours in the hh:mm format.
Here are a few examples of decimal hours and how to interpret them. 8.00 hours - this is exactly 8 hours OR 8:00 in the hh:mm format - note colon, not a decimal point. 8.25 hours - this is 8 and 1/4 hours, or 8 hours and 15 minutes OR 8:15 (hh:mm again), again note the colon. 8.50 hours - here we have 8 and ½ hours or 8 hours and 30 minutes. 8.75 hours - 8 hours and 45 minutes OR 8:45. Here are a few which are commonly confused. 8.20 hours - you may want to read this as 8 hours and 20 minutes, but notice the decimal point, it is actually 8 hours and 12 minutes. 8.45 hours - this one is 8 hours and 27 minutes. We use decimal hours for two reasons. They are more precise - decimal hours are almost 2 times more precise than minute hours. Minute hours have a maximum of 1/60 resolution, while decimal hours have a 1/100 resolution. Decimal hours are easier to work with - Imagine trying to multiply 8:12 (which is 8 hours and 12 minutes) by an employee hourly rate. Its much easier to multiply 8.20(or 8 hours and 12 minutes) by an hourly rate to calculate payroll. Totals daily and pay period hours worked for any pay cycle. Simple to setup and easy to use.
Daylight savings, short month and leap year automatic adjustments. Hours:Minutes and Decimal Hours. Hours:Minutes (1/60 Hr) and Decimal Hours (1/100 Hr). Built-in Battery retains time, date, and program settings. Displays both DAY and PERIOD hrs when punching out.
Gives Fast and Clear Printing on Inexpensive Thermal Paper, No Need to Use Ribbons or Ink. Quiet High Speed Thermal Printer - Prints 18 Lines per Second. " Clam Shell" Design for Easy Paper Loading.
Auto-adjusts for Number of Days in the Month, Leap Year and Daylight Savings Time. Function Codes Allow Easy Program Changes. Tabletop or Shelf Mounting (wall mount option). For non register groups such as Military and ad hoc volunteers. 2 1/4 x 85 ft.
8 " x 4" x 2. The 570AR attendance recorder is a. Sample Individual Employee Time Card. You do not have to change the format of the hour totals format as the AR prints both hours/minutes and hours/decimal period totals in the same time card report. 02/24/201x By Name 9:06a.
WED 03/16 IN 11:20 OUT 16:58 5:38. THU 03/17 IN 9:43 OUT 16:50 7:07. FRI 03/18 IN 9:49 OUT 16:57 7:08. TUE 03/22 IN 10:00 OUT 16:58 6:58. WED 03/23 IN 10:15 OUT 16:51 6:36.
SAT 04/02 IN 9:53 OUT 15:55 6:02. SUN- -MON- -TUE- -WED- -THU- -FRI- -SAT.
__:__ __:__ 6:58 12:14 7:07 7:08 6:02. PRINT WHO'S IN LIS. 570AR attendance recorder, 125 accts.
Roll 2 1/4 in by 85 ft white (non adhesive) thermal paper roll (available at office supply stores). The item "570AR TIME AND ATTENDANCE SYSTEM for payroll, punch/swipe, 10 cards withprinter" is in sale since Thursday, May 28, 2015. This item is in the category "Business & Industrial\Office\Office Equipment\Time Clocks & Supplies\Time Clocks". The seller is "bertbert1" and is located in Virginia Beach, VA. This item can be shipped to United States.
Instant real-time reports: Yes Print at any time
Print daily service receipt: yes
warranty: 1 year exchange warranty
badge/card reader: yes
internal printer: yes fast 18 lines per second
Model: 570AR
standalone operation: yes, PC nor Internet connection not req:d
Daylight savings time: Automatic adjustment
battery backup of data: yes
MPN: Does Not Apply
Brand: VeriFone
fees: no addiitional fees or charges
Recoding Period: up to 1 year